Unit Converter is a measurement conversion tool that enables you to convert from over 1,000 different measurement units of Area, Basal Area (Forestry), Circular, Circular Area, dbh (Forestry), Energy/Work, Flow, Force, Length, Power, Pressure/Stress, Temperature, Time, Velocity, Volume, and Weight/Mass, for a total of over 100,000 possible conversions. Unit Converter also enables you to add your own units and measurement classes to customize this software to your own needs.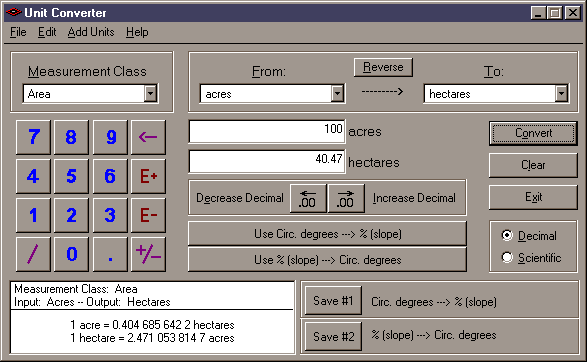 Unit Converter comes with an extensive on-line manual which you can view by clicking on one of the Manual buttons to the left. Not only does the manual explain how to get the most out of Unit Converter, but you can also use it to evaluate Unit Converter's capabilities before downloading and installing it.
Unit Converter comes with a 30-day free trial period to allow you to evaluate this software before purchasing it. There are no restrictions on functionality during this 30-day trial. We hope that 30 days will be enough to convince you that Unit Converter is both useful and fun, and easily worth the $20.00 (US) purchase price. Please click on the Download button to download the software.
Site licenses and licenses for multiple computers with multiple users are also available. Please view our Purchase page for more information on site licensing and pricing.
IMPORTANT: Slightly modified on March 25, 2005. The previous version did not unload from memory properly if you clicked the X-button in the top-right corner to close the software. Opening Windows Task Manager would show that Unit Converter was still running. Sorry about that! This problem only occured if the X-button was clicked; using the Exit button, or File --> Close menu item would close the software properly. This version has been modified to close the software properly if you click the X-button in the top right corner.
If you have previously purchased Unit Converter and wish to install this updated version, your current registration code will work with this version.
Enjoy! If you have any problems, please contact the author at:
Jeff Jenness jeffj@jennessent.com
3020 N. Schevene Blvd.
Flagstaff, AZ 86004
USA